Viewing prospective properties can be a minefield of unwritten rules. Answered here are buyers' most frequently asked questions about open house and private showing etiquette.
Can I bring my kid(s)?
Of course! But should you? Unless you're serious about a property, consider leaving them behind. You'll get more out of the viewing since you won't be distracted, and you won't risk your child(ren) possibly doing damage to the seller's property or hurting themselves.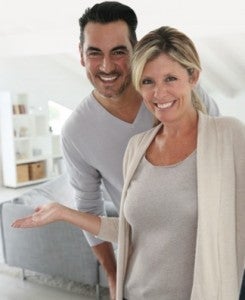 Can I open closets, cupboards, and drawers?
Closets? Yes, absolutely! Cupboards and drawers? That depends. Are they permanently affixed to the property (e.g., kitchen cabinetry)? Then yes! Are they attached to belongings the seller will take with them (e.g., dressers, armoires)? Then no. Rummaging through their contents? Never.
What if I have to use the bathroom?
If you can hold it, do. But if it just can't wait, ask permission first – the seller may have designated a specific bathroom they'd prefer guests use. And if you do go, make it quick and leave everything exactly as found!
Is it OK to take pictures or record video?
Until it's sold, that property you're wandering around is still someone's private residence. So the rule here is the same as for the bathroom: ask permission first. Understandably, some sellers have security concerns and may prefer you didn't take images.
Do I have to take my shoes off?
If asked to do so, whether by a sign, a seller, or a salesperson, it's just good manners to comply. Always be prepared for this request by wearing good socks or stockings under shoes you can easily slip off and on.