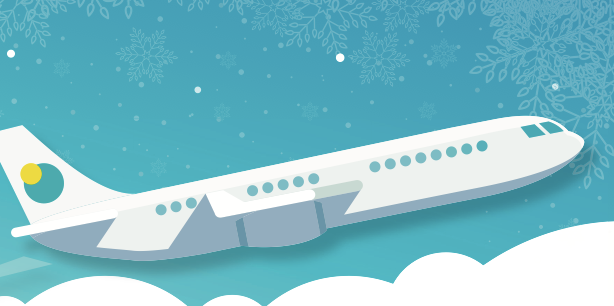 Since many people take time off to visit family and friends in other places, the holidays are the busiest time of year to travel. It's also one of the most taxing times to travel, with people reporting it was as stressful as moving.* 
Take the stress out of holiday travel with these tips.
Do your research
Whether you're planning weeks in advance or you're trying to get a last-minute deal, it helps to do your research. Choose flexible travel dates to help you pinpoint the best deal. Also, consider flying into an alternate airport nearby that may not be as busy.

Plan carefully
Flying in the winter may increase the chances of flight delays due to inclement weather. Avoid narrow layover times to reduce the chances of missing connecting flights or choose destinations in warmer cities, if possible.

Pack light
More airlines are charging to check bags. Save money by packing lighter or sending items to your destination instead of bringing them on the plane. Send gifts to their destination, or if you must bring them with you, don't wrap them.
Leave early
This will allow you the buffer time necessary to deal with traffic jams, parking and security. If you live in an area with a light-rail transit system that stops near the airport, use it to avoid traffic and airport parking.
Stay up-to-date on flight changes
Download your airline's app to get alerts about gate changes and delays.
Get your car ready
Take your car in for a tuneup and address any potential issues beforehand. Have the mechanic check fluid levels and check your tires as well.

Plan your route ahead of time
Whether you're driving a few hours or a few days, it helps to know the route you're taking. If you're taking a long trip, plan where you want to stop for the night and make a reservation at a nearby hotel so you can be sure you'll have somewhere to stay overnight.

Keep roadside assistance information on hand
Having this information readily available will help you think clearly and act quickly in the event of car issues.

Store a cell phone charger in the car
Using your phone to navigate or play music can drain the battery. Keep a charger in the glove compartment or centre console to keep it charged in case of an emergency.

Pack a winter safety kit
The kit should include an ice scraper, a small snow shovel, tow rope, jumper cables, a blanket, flashlights, a first-aid kit and a portable radio.

///...CP
* Sources: Smithsonian Magazine