(February 23, 2017)
We had a great time hosting our very first "Client Appreciation Event – Family Day Aviation Experience".


Our most sincere thanks to Synergy Aviation, eyeLight Photography, Digital Video Listings, DQ, Bouncin' Around, and Fabulous Faces for your support and ensuring our event was a huge success!
See you next year!
CRAIG & KELLY
P.S. We raised approximately $2,500 for Stop Abuse in Families Society
///…C...
read more
.
(February 03, 2017)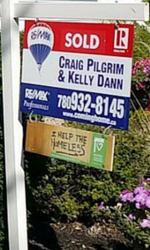 "The Gist" is adapted from the REALTORS® Association of Edmonton Monthly MLS® Report and Press Release. Every month I summarize and post "the gist" of the MLS® data for Edmonton and area real estate activity.

The average*** single family detached price in the service area of the Edmonton Multiple Listing Service® was down 0.97% to $416,859.
The average condominium price was down 0.37% to $246,727
The... read more.
Categories
Archives

Subscribe To This Blog