Decorating trends come and go. Are there any that have overstayed their welcome in your home? It's time to talk about those once-stylish décor choices that could cause your home to look like it's stuck in a time warp, and turn buyers off when you're trying to sell.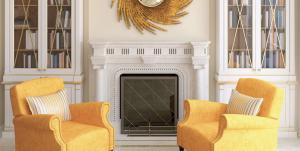 Mirrored Closet Doorsdated
Few things evoke the 1980s quite like those sliding mirror doors with the brassy trim. But what if you like that they brighten and open up the room? Update mirrored doors by creating patterns with spray- or stick-on rosting, applying stylish decals, and/or painting the frame and track. Want to get rid of or disguise the mirror frugally? Replace the doors with panel curtains or cover them with grasscloth for a nature-inspired look, or wood veneer and rice paper for shoji-screen style.
Popcorn Ceilings
Also called acoustic ceilings, popcorn ceilings were popular in the 1950s through the 1980s due to their ability to dampen sound and hide imperfections. Today, most homeowners want rid of them and many homebuyers consider them a dealbreaker. Why? They could contain asbestos, depending on their age; they're hard to repair ad paint; and they can trigger allergies because they trap and degrade into dust. You can remove popcorn ceilings yourself by wetting them and scraping off the texture, but leave the job to professionals if asbestos is present.
Old-School Track Lighting
Speaking of ceilings, they can feel rather cluttered and obtrusive when outfitted with older track lighting systems. You know the type: those big, bulky, white or black "cans" that were popular in the '90s. You don't have to abandon track lighting altogether to get with the times. Today's systems offer more subtle, streamlined designs, with smaller, less overwhelming, track heads and a variety of finishes, such as chrome and nickel, that also help bring track lighting into the 21st century.
Overdressed Windows
Are your windows wearing too many layers (e.g., blinds, sheers, drapes, and valances)? Are they dressed up in frilly accessories like swags, jabots, and festoons? Are your curtains "puddled" on the floor? Heavily dressed windows not only look dated, but also block out natural light (which you definitely don't want when selling your home). The trend has moved away from a lot of fuss on windows and towards simple, sleek treatments that let the light in and that highlight, rather than overpower, your views and architecture.
Faux Finishes
Like popcorn ceilings, faux painting techniques like ragging and sponging caught on in part due to their ability to hide imperfections. But these days, when décor trends are all about clean lines and simplicity, faux finishes are often seen as a faux pas. It's bold colours (unless your home is for sale), and the solid paint jobs that show them off, that are en vogue. Just as well – faux finishes are more difficult to apply and harder to paint over when you tire of them.
///…CP